Thanks for reply and no worries about asshat appearance, its understandable.
Sorry this was indeed Kodi 16 log... I downloaded every LibreELEC version to try and better understand my problem hence also 16.. Problems started with up to date Kodi version few days ago (all was great for over year)... I will upload Kodi 17 bit later.. tbh not sure why I had old version of your addon on this attempt. Perhaps VPNArea guide link is old. btw reason I'm using custom .ovpn files, this is actually official guide from VPNArea.. Your build in support doesn't include all servers if I remember correctly.. also maybe that's why no one reported it (if they follow official guide from VPNArea?)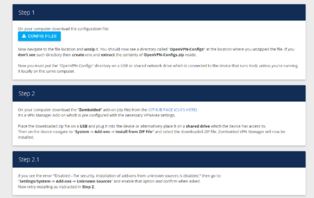 DNS errors only are present when trying connecting to vpn using addon.. There is working connection without vpn so dont understand how there is DNS problem.. ip on dhcp with auto DNS from router which is also on auto from ISP.. All other network devices connect OK..
Also like I said other windows and android devices connect to vpn without problems(so credentials are correct etc) only raspberry pi is affected. I'm losing plot with this now really but will try again bit later and upload log..

I appreciate you taking your time trying to guide me and replies. Thanks!