Hello
I just updated my HTPC to LibreElec 9.0.0 / Kodi V18 Leia and now when I play Blu-ray ISO rips I get green screening and artifacts.
Motherboard - Intel DH67CF
CPU – Intel 2nd Generation Core i3-2100
i never had this problem on LibreElec 8.2.5 / Kodi V17.6 Krypton.
The HTPC is connected to a Denon AVR-1513.
I have VAAPI Hardware Acceleration turned on for all types and Audio passthrough turned on for all types etc.
Attached screen shot is the start of Blade Runner with the cityscape and flaming towers.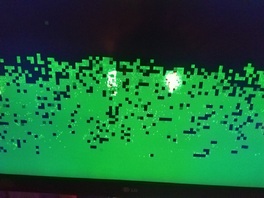 Also DVD Video_TS rips stopped playing properly in LibreElec 9.0.0, I had a lot of motion judder / slowness, lip sync way way out, video skipping of its own accord etc.
I changed the following video playback setting and now the DVD VIDEO_TS rips seem to be playing better.
Video Scaling Method - I changed from Lanczos3 - Optimised to be Bilinear.
The Deinterlace method is set to VAAPI - Bob.
Thanks