I'm having trouble connecting to VYPRVPN. I put in the correct user and pass and I get the below error in the log.
I tested my credentials logging out and logging back in on my PC app for VYPRVPN and they work fine. Can you help?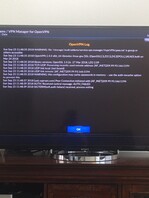 Instead of UDP, when i switch to using TCP no VPN servers are pulled to select from. My only choices are "Switch between location and server views" and "Cancel connection attempt." Selecting the switch option does nothing.
solved. I wiped out the downloaded files, and selected giganews account instead of the top two vyprvpn options. I got my access thru giganews.