Hi.
I have a new bug to report.
LibreELEC 9.0.2 on Raspberry Pi 3B+.
I have an old remote control from an old ATI tuner card. This is a radio remote, operates in 433MHz band and has a USB receiver.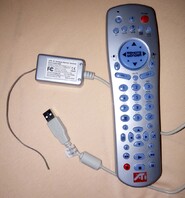 The remote includes "mouse" buttons. They are the big round button on top (mouse movement) and the side buttons for click and right click. Pressing any of the mouse buttons instantly causes LibreELEC to freeze. It won't respond to network ping, ssh session freeze, so I'm unable to provide any crash information.
All other buttons work (act as intended or just don't do anything): play/stop/skip, arrows (bottom arrows), numbers, volume, etc. They never cause a freeze.
This remote works with Raspbian and OSMC, including the mouse buttons; they really moved the mouse cursor, clicked, etc.
I tried other kernel modules.
Notice that Raspbian and OSMC don't show "ati_remote" driver and register two inputs, not just one.
Thank you.