Yes.
I also tried switching the HDMI cable to the other port, as well as creating an EDID file for both monitors.
Please understand how much I appreciate the help. I've never dug this deep into LE so I'm ignorant of the details but it's nice to learn more about the system.
Without this change, the screen stays black. With this change, it shows the LE version and hangs. So, it is one step closer to working.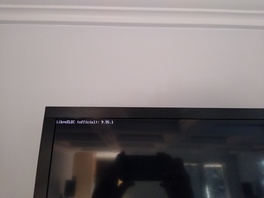 HTPC1:/flash # ls -l


total 124240

-rwxr-xr-x 1 root root 114343936 Mar 11 17:08 SYSTEM


-rwxr-xr-x 1 root root 48 Mar 11 17:08 SYSTEM.md5


-rwxr-xr-x 1 root root 25870 Mar 11 17:08 bcm2708-rpi-b-plus.dtb


-rwxr-xr-x 1 root root 25218 Mar 11 17:08 bcm2708-rpi-b-rev1.dtb


-rwxr-xr-x 1 root root 25607 Mar 11 17:08 bcm2708-rpi-b.dtb


-rwxr-xr-x 1 root root 25529 Mar 11 17:08 bcm2708-rpi-cm.dtb


-rwxr-xr-x 1 root root 26545 Mar 11 17:08 bcm2708-rpi-zero-w.dtb


-rwxr-xr-x 1 root root 25352 Mar 11 17:08 bcm2708-rpi-zero.dtb


-rwxr-xr-x 1 root root 26745 Mar 11 17:08 bcm2709-rpi-2-b.dtb


-rwxr-xr-x 1 root root 26894 Mar 11 17:08 bcm2710-rpi-2-b.dtb


-rwxr-xr-x 1 root root 29011 Mar 11 17:08 bcm2710-rpi-3-b-plus.dtb


-rwxr-xr-x 1 root root 28392 Mar 11 17:08 bcm2710-rpi-3-b.dtb


-rwxr-xr-x 1 root root 26890 Mar 11 17:08 bcm2710-rpi-cm3.dtb


-rwxr-xr-x 1 root root 49090 Mar 11 17:08 bcm2711-rpi-4-b.dtb


-rwxr-xr-x 1 root root 48794 Mar 11 17:08 bcm2711-rpi-400.dtb


-rwxr-xr-x 1 root root 49202 Mar 11 17:08 bcm2711-rpi-cm4.dtb


-rwxr-xr-x 1 root root 52456 Mar 11 17:08 bootcode.bin


-rwxr-xr-x 1 root root 74 Mar 11 17:08 cmdline.txt


-rwxr-xr-x 1 root root 1266 Apr 6 14:29 config.txt


-rwxr-xr-x 1 root root 1265 Apr 6 14:29 config.txt~


-rwxr-xr-x 1 root root 256 Apr 6 14:17 display0.edid


-rwxr-xr-x 1 root root 256 Apr 6 13:57 display1.edid


-rwxr-xr-x 1 root root 280 Mar 11 17:08 distroconfig.txt


-rwxr-xr-x 1 root root 8454 Mar 11 17:08 fixup.dat


-rwxr-xr-x 1 root root 9208296 Mar 11 17:08 kernel.img


-rwxr-xr-x 1 root root 48 Mar 11 17:08 kernel.img.md5


drwxr-xr-x 2 root root 24576 Mar 11 17:08 overlays


-rwxr-xr-x 1 root root 2981192 Mar 11 17:08 start.elf





Display More
This is the bottom of the config.txt
################################################################################


# Include distribution specific config file if it exists.

################################################################################

[all]

include distroconfig.txt




# uncomment to enable infrared remote recevier connected to GPIO 18

dtoverlay=gpio-ir,gpio_pin=23

dtparam=i2c=on

enable_uart=1




hdmi_edid_file=1

hdmi_edid_filename:0=display0.edid

hdmi_edid_filename:1=display1.edid

Display More