That is the tutorial I was following, but I can not seem to get the factory code I even copyd all the text I get after using "dmesg -c" to word to do a word search and nothing




Also I was copying the remote.conf file to a hidden folder /storage/.config like it say's in the tutorial, but you speak of putting it in root, so I have also tried putting it in /storage with SSH but same result it wont work, and I cant edit it since I am unable to get my factory code




EDIT:

I've compiled the mainline kernel branch by myself, and now it's booting the system correctly. Anyways, the wifi hasn't been recognized on my box. I have to do more testing, configure IR remote and see if it works, and more stuff.




When I try the 9.80 that are ready compiled I get a mount error on boot, any chanse you can give me a link to the 9.80 you compiled so I can try it ? mega upload or google drive link or somthing ?

would be much appreciated, I never compiled myself and I know if I start now I wont know what is wrong the image or my compile skillz




Thank you very much for your help already




Hans

Display More
I told you to put the appropiate remote.conf file in the FAT partition, next to Kernel and SYSTEM files, not in the 'Storage' partition. You can do that simply without booting the system, inserting the SD card in some computer, and youl'll have something like that: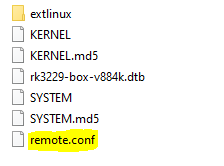 Try both remote.conf files without changing anything, don't loose anything by testing that...
Good luck.