Hi.
I have a problem with my Mini M8S II (2 / 16GB - S905X). I wanted to use the newest image (both amlgx and amlgxbb). I recorded the image to SD card, unfortunately there was no aml_autoscript.zip (there was only aml_autoscript) so I created it via winzip. In the extlinux.conf file I set the file "meson-gxl-s905x-p212.dtb"
Then I put the card into the android box. Then I turned on the device and waited for android to load. Then I chose the "Update & Restore" option. Unfortunately, after the restart, a message appeared, as in the photo below.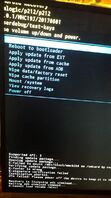 Unfortunately, the use of a toothpick or any other means does not help either. Can something be done about this to get LibreElec to run on my device?